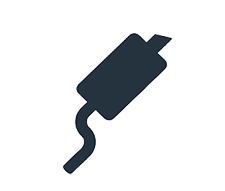 Mufflers & Exhaust
Rainbow Muffler & Brake is uniquely qualified to machine and fabricate new exhaust pipes or replace segments of your existing exhaust system for a longer-lasting, lower-cost warrantied repair.
EXHAUST AND MUFFLER REPAIR
If your car is louder than usual, making a rattling sound, or if your check engine light is on, we can help. Your car's exhaust system is critical to reducing harmful emissions and noise created by the combustion process. If it's not working, you'll likely hear (or smell) it.
Rainbow Muffler & Brake supports the American workforce and has carried an all made-in-the-USA exhaust inventory for over 20 years. We offer complete exhaust work, as well as custom pipe bending. We can fabricate custom exhaust systems — economy, factory-fit and performance — or replace segments of your existing system, saving you the expense of a full exhaust system replacement.
CUSTOMERS LOVE OUR SERVICE
-Christina – Jacksonville, FL
"Compared to other shops, Rainbow gave me a much more cost-effective brake line job and had it done in a timely manner."
-Jomel Jones – Jacksonville, FL
"I have five cars. This is the only place I have them serviced. When I first moved here, my car broke down twice over a weekend, different issues. They were very reasonably priced, did a great job, gave me options to fit my wallet, and were honest. I'm not a mechanic, but I do work on cars. They've been very close to what I think a problem is and typically match what I think the cost should be. On several occasions they've come back under the estimate. Only honest mechanics will do that."
-Romell Short – Jacksonville, FL
"To find a shop that is honest about what really needs fixed on your car is almost impossible to find. These guys tell you how it is, what's best for you to keep your family safe on the road. Most mechanics will try to get you to at least spend some of your money so that you didn't waste their time, even if it means you will be putting your loved ones in danger on the road. These guys keep you safe and are reasonably priced!"