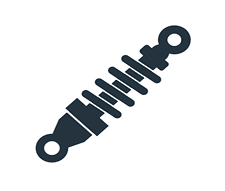 Shocks & Struts 
Rainbow Muffler & Brake offers a full line of suspension packages — from basic to high-performance — to keep your vehicle maneuvering safely and smoothly. Our technicians will make sure your shocks and struts are performing optimally to give you better control and comfort on the road.
SHOCKS AND STRUTS
Does your vehicle struggle and sway with turns? Are your tires wearing unevenly? Shocks and struts are critical components of your vehicle's suspension system, affecting how it handles and your overall safety, and they should be replaced around every 50,000 miles. Both shock absorbers and struts should be checked on a regular basis and should be replaced when they wear out. Our technicians will inspect your suspension system and repair and replace any worn-out components.
CUSTOMERS LOVE OUR SERVICE
 Lazy Gamer
Amazing work! I had a Muffler and Resonator delete done, and added a Dual Exhaust. Couldn't be more satisfied with the work. They were able to get me in and out. Definitely recommend!!